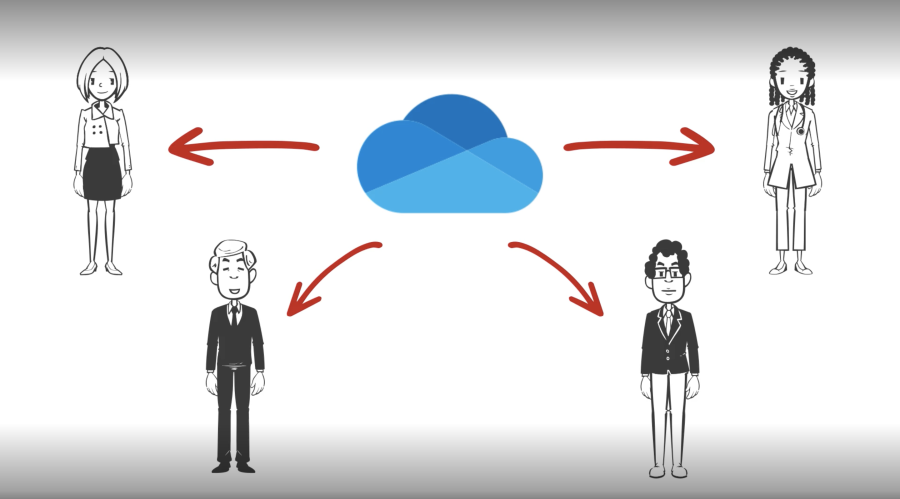 I had written a great article on Onedrive. However, The best way to Sharing With OneDrive Online is to go to Office.com with your favorite web browser. Once you get to your portal screen, click the menu icon in the top left and choose OneDrive:
You will be brought to your "My Files" page:
You can create a folder and share it to the user(s) you want. They can view and copy the files they need from here.
Creating a Folder in OneDrive
From the top right of the My Files window, click New / Folder and then Give it a name.
Setting File Access in OneDrive
Setting Permissions
If you are collaborating with others, Use "Can Edit" permissions on the share. Use "View-Only "permissions if you would like users to only view and not edit the contents of the documents are sharing. Alternatively, you can prohibit downloading and printing of the document or folder content when in "View-Only" by blocking downloads.
Highlight the File / Folder you wish to share as read-only and click the dots (…) beside it. Chose "Share":
You will see the share dialog box:
Next, we will set up who will have access, what kind of access (read-only or edit) and whether to block downloading or printing. Clicking on "Anyone with link can edit" will expand the sharing menu to show all options:
If you choose "Anyone with the link" as an option, the Other Settings you can pick the following:
Read-only or Edit
The date the link expires.
Setting a password for the link
Block Download – This prevents downloading or printing. It is ONLY available when access is set to READ-ONLY
For sharing with "People Within Your Organization" or "Specific People", it is almost identical except you will not be able to set an expiry date on the link or set a password.
In Other Settings, you can do the following:
Read-only or Edit
Block Download – This prevents downloading or printing. It is ONLY available when access is set to READ-ONLY
Sharing With OneDrive Online and Sending the Link
Click "Apply" and then you are presented with the next Window that allows you to send the link. You can do these one of two ways. You can provide email addresses in the address field and then click send. The email address is searched from the directory and your contacts. Email addresses that are not in those sources must be fully typed in (i.e. [email protected]). Or you can copy the link by clicking copy and pasting it into an email that have already created in Outlook and send it that way.
Now anything you upload to that folder will be shared to the users you have specified above.
Uploading to the Folder
Navigate to the Folder you created and set permissions for and click the upload button. Choose whether you are uploading a file(s) or a folder:
Pick a file(s) and click "open" or pick a folder and click "select folder".
It will upload to your OneDrive folder.
The Benefits of Sharing With OneDrive Online
File Sharing and Permissions
One Drive provides more granular control over who has access to what documents, and the actions that can be performed on those documents. You can set an expiry date on a shared link, manage external sharing domains and limit external sharing for specific users. Businesses can also take advantage of the improved capabilities for auditing external sharing invitations.
Data Storage
OneDrive for Business gives business users up to 1 terabyte (TB) of space each, which is far more than what most users would ever use. However, it should be noted that, by default, the data you sync from OneDrive is stored on your local drive.
Naturally, if you are syncing large amounts of data, and if you have limited space on your hard disk, you may run into problems. Fortunately, One Drive For Business provides you with options to control what data is synced to your personal OneDrive folder. This make it easy Sharing With OneDrive Online
Administrators can easily determine how much storage space their employees are using by visiting the storage metrics page. Of course, this doesn't give them any information about the amount of storage space available on the employee's advice.
Sensitive Data Discovery and Protection
With some licenses, businesses can search for sensitive content across SharePoint Online and OneDrive for Business. OneDrive for Business recognizes 51 types of sensitive information, which include credit card numbers, passport numbers and Social Security numbers.
Within OneDrive for Business, businesses can setup basic security policies and generate reports for documents that contain sensitive information. Businesses also have more control over which devices can access their data, and the IP addresses and domains that users can connect to OneDrive from.
Sharing With OneDrive Online With Mobile
The OneDrive for Business mobile phone application offers a great user experience and is available for both Android and iOS devices. The mobile application allows users to easily share, move, delete and view documents, even when they are offline.
One interesting feature of the ODFB mobile app is the ability to make inline annotations to PDF documents, which includes drawing, highlighting, and commenting.
Version Controls
OneDrive for Business provides version controls which makes team collaboration that much easier. The benefits of versioning are that it allows administrators to review or restore previous versions of a document or file, and gives them visibility into who made what changes, and when.